What is the fastest USB flash drive? The fastest USB flash drives are SSD or Solid State. Assuming your Computer is at least USB 3.0 capable, flash thumb drives that are Solid State (SSD) are much more pleasant to work with than NAND based drives. This is due to their greatly increased read and write speeds (often up to ten times faster). They also tend to last longer and be much more reliable. This is because they are not affected by the reduced write limitations imposed on NAND cells. So theoretically, it is possible to run an uncompressed full Operating System from SSD memory, without the fear of premature failure.

My background using fast USB flash thumb drives
Over the past 17+ years, I have had the opportunity to work with, use and speed test hundreds of portable external USB devices; commonly referred to as UFD, flash drives, pen drives, thumb drives and memory sticks. I have found some that work great as bootable USB drives, while others do not.
So, in an effort to help others avoid purchasing unreliable and slow flash drives, I am sharing my experience by outlining my top pick of high quality fast solid state flash drives. Also included are recommended NVMe SSD drives for those who want to utilize the fastest throughput a USB 3.2 port can offer.
What are some of the fastest USB flash drives?
The top spot is currently held by a newcomer to the fastest USB flash drive list. I feel it tops the list of best USB flash drives you can currently buy.
#1 AXE Speedy+ SSD flash thumb drive
The AXE Speedy+ SSD flash thumb drive offered by AXE Memory is the newcomer to this list. Boasting up to 600 MB/s read and 500 MB/s write speeds, (I'm getting over 600 MBs read/write speeds) it is extremely fast. This device uses Solid State UASP SCSI flash memory and just like the 1TB SanDisk Pro, it is also configured from the factory to be detected as a; "Local Disk" instead of removable media; "USB Drive".
Speedy+ performance metrics shine when used in conjunction with the latest 3.2 Gen2 USB standard (even hanging with some of the top NVME SSD performers). This device utilizes USB 3.2 Gen2 UASP SuperSpeed+
UASP stands for USB Attached SCSI Protocol. While SuperSpeed+ transfer modes can provide throughput data rates up to 10 Gbit/s.
How Fast is the AXE Speedy+?
It's FAST - here is a benchmark speed test I performed using CrystalDiskMark. This bench test was performed with the flash thumb drive plugged into a USB 3.2 port to maximize throughput potential: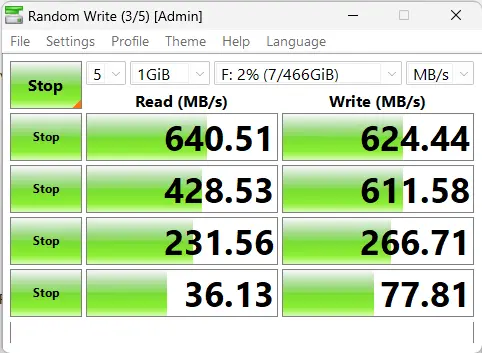 At about 2/3 the overall size of a SanDisk Pro, this thumb drive is also the smallest of the bunch.
The Speedy+ USB 3.2 Gen2 UASP SuperSpeed+ flash drive is often on sale, making it also one of the best values of this list. This is currently my pick of the fastest USB flash drive at the best thumb drive value. I've moved it to top place as it has been reliably outperforming the others.
Where to buy a Speedy+ SSD flash drive?
You can learn more about the AXE Speedy+ from the product link below.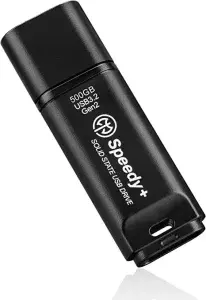 #2 SanDisk Extreme Pro SSD
2nd place: The SanDisk Extreme Pro - Currently the most dependable fast USB flash drive.
SanDisk (now owned by Western Digital), has always offered some of the best, fastest, and most reliable flash drives money can buy. Providing up to 420 MB per second read speeds, and 380+ MB per second write speeds, the SanDisk Extreme Pro SSD is an exceptional drive. Covering both speed and reliability, this is my 2nd choice. I have used mine for several years to test hundreds of portable installs, without failure.
Instead of using a eMMC - NAND controller, this device actually uses an SSD controller over a SCSI to USB bridge. Making it essentially a Solid State flash drive.
How Fast is the SanDisk Extreme Pro?
The SanDisk Extreme pro is no longer the fastest drive out there, but is still pretty quick. Here is a typical real world benchmark speed test result for the newer SanDisk Pro 3.2 USB flash drive. Performed on a Lenovo laptop with the device connected to a USB 3.2 port. All things considered, the actual real world performance is pretty good. Perhaps no longer the fastest USB flash drive I have personally tested. However, it has reliably seen the most use and survived the longest so far.
Though it doesn't take the crown, over time, the Extreme Pro has still proven to be one of the fastest USB flash drives. More importantly it has also been my most reliable USB flash drive to this day. I think the reliability and consistent speed of the SanDisk Extreme Pro drive comes from how well it dissipates heat while under a heavy use. Its housing seems to work like a heat sink. This is the most reliable fastest USB flash drive I have used to date.
I should mention that the 1TB model is manufactured to be detected by Windows as a fixed "Local Disk". This will not work with every type of boot from USB software. For example, if the USB boot creator tool only displays flash drives detected as removable "USB drives", a fixed Local Disk wont be selectable. Though these drives should still work fine with USB bootable tools like Universal USB Installer, YUMI or Ventoy which allow you to select both removable and fixed USB hard disks.
Where to Buy a SanDisk Extreme Pro?
You can read more about and purchase a SanDisk Extreme Pro USB flash drive from the links below.
#3 Vansuny SSD USB flash drive
3rd place: The Vansuny USB C - another budget friendly fast USB flash drive
The Vansuny is another budget friendly fast solid state flash drive I've been testing and using lately. And so far, it seems to be working well. It provides read and write speeds up to 400 Mb/s.
If you are looking for a USB 3.1 compatible SSD flash drive that is fast, yet inexpensive (sometimes available at almost half the cost of an equivalent SanDisk). This might be your best bet for a fast USB flash drive on a tight budget.
How Fast is the Vansuny Solid State flash drive?
Here are some benchmark test results for the Vansuny flash drive. Testing was performed on the same Laptop as the others. Coming in a smidge slower than the SanDisk, this Solid State flash drive performs much better than most found in local department stores. And makes this list as one of the fastest USB flash drives you can buy on a budget.

Where to Buy a Vansuny flash drive?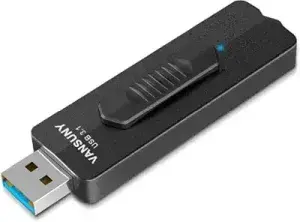 You can read more about and purchase a Vansuny USB flash drive from the link below.
#4 SSK SSD USB flash drive
4th place: The SSK USB 3.2 flash drive
Boasting speeds up to 550MB/s read and 520MB/s write, the SSK is another very fast option. Again approaching NVME speed, in some cases, this is perhaps the fastest of all the flash drives reviewed here. This drive utilizes a standard USB connector, however it also includes a USB C memory stick adapter and can perform at USB 3.2 standards, making it one of my top choices for the fastest USB flash drive featuring the 3.2 standard. If you're asking just how fast is USB 3.2 flash drive? Well, this example is about as fast as they get.
Where to buy an SSK SSD USB 3.2 flash drive?
For more information and to purchase a fast SSK USB 3.2 flash drive, see the link below.
You could also use an NVMe SSD drive in an external USB enclosure which can be even faster than the fastest usb 3.2 flash drive or fastest usb-c flash drive. These end up being limited only by the throughput of the USB port. Here is a fast NVMe SSD that I currently recommend.
SSK NVME SSD up to 1050MB/s 10Gb/s
The SSK 1TB external SSD boasts NVMe solid state performance with up to 1050MB/s read and up to 1000MB/s write speeds. It features a built-in 1TB 3D NAND Flash SSD making it the perfect solution for those who need maximum performance and portability. With this device, you can enjoy lightning-fast read and write speeds that are essential for data-intensive tasks. Plus, its 1TB of storage ensures that you have plenty of space to store all of your usb bootable operating systems and data. Whether you're a professional or an enthusiast, this device is sure to meet all your speed and portable storage needs.
To conclude, these are just a handful of fast flash drives I have personally used here for development and testing. The SanDisk Extreme Pro Series USB drives have historically been my go to first choice. Those memory sticks are phenomenally reliable and fast for a thumb drive. However, the Speedy+ SSD flash drive provides better performance and value at a smaller form factor. It has become my new favorite fastest flash drive for 2023.
All of these reviewed SSD flash drives provide plenty of storage space for Linux distributions, Windows to Go, Windows Installers + anything else one might want to store on them.
Though Solid State USB flash drives may not be cheap, they do tend to last longer. As that old saying goes, you typically get what you pay for. Since the fastest USB flash drives are typically Solid State, they aren't going to be super cheap.
This site is an Amazon Affiliate and earns a small commission from any purchase made via these links. As a result, anything you buy during your session via these links can go to help support continued YUMI and Universal USB Installer updates. In addition to helping cover costs incurred for hosting, maintenance, and site development.